We consolidate and implement technology that transcends organizational boundaries through the decommissioning project of the Fukushima Daiichi Nuclear Power Plant.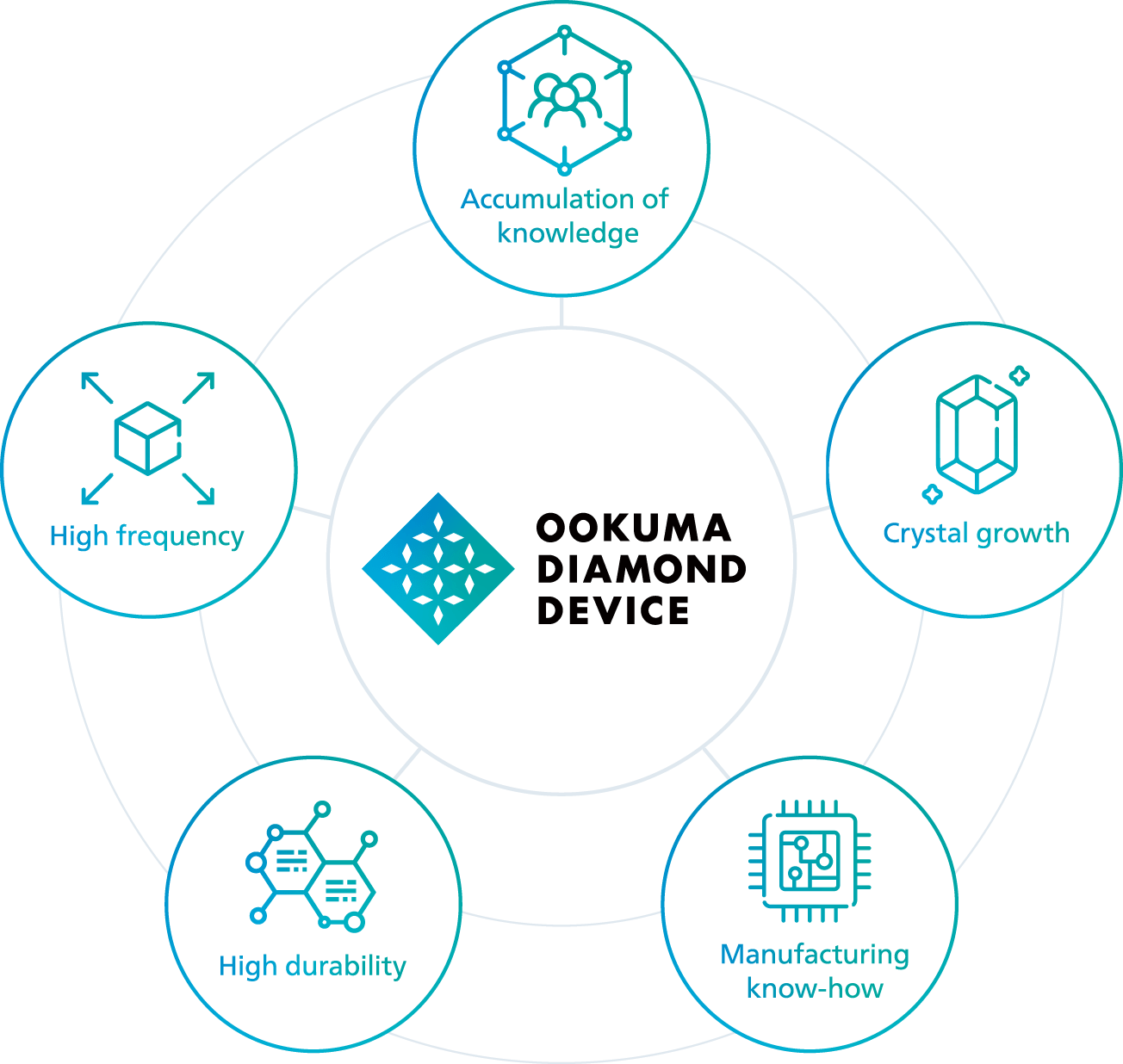 Social implementation in areas where only diamonds can provide solutions
There are areas where only diamonds can provide solutions, making diamond semiconductors essential.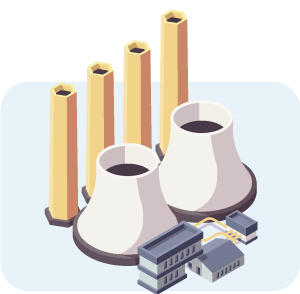 Nuclear power plant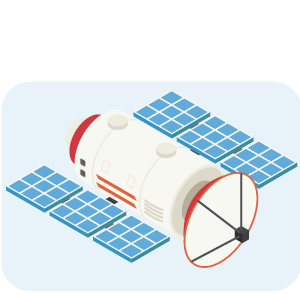 Satellite communications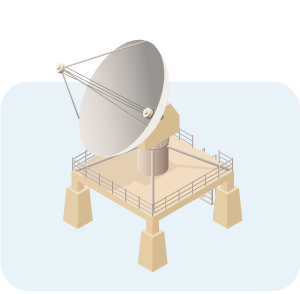 Radar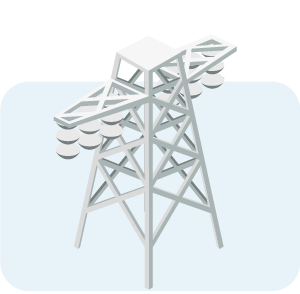 Post 5G / 6G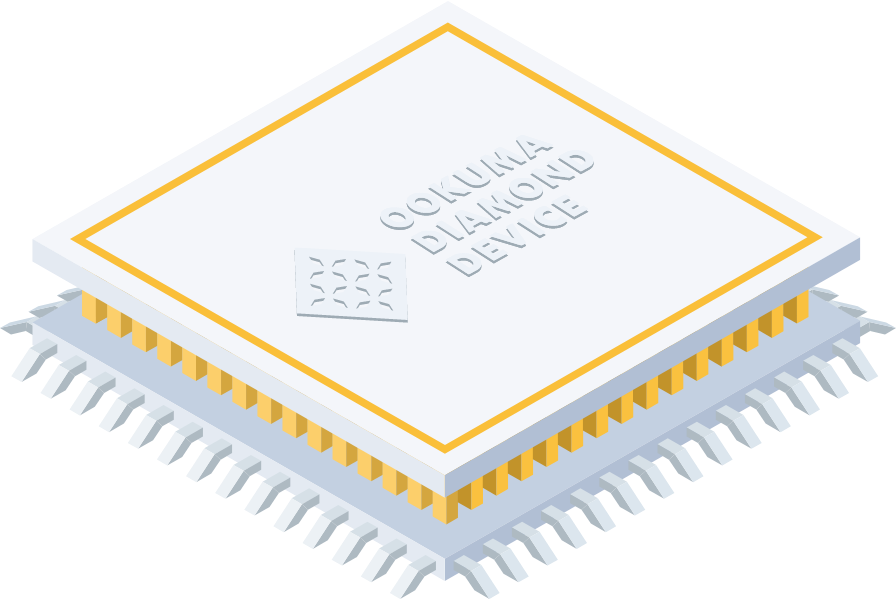 Diamonds are generally known for their hardness as gemstones, but they also have superior material properties, such as thermal conductivity, insulation breakdown, dielectric constant, and mobility compared to other materials, which enables efficient use of high electrical power.
Our diamond semiconductors can be used in analog devices that control and supply power and perform frequency conversion, rather than microcontrollers or memories used for "computing" or "storage."
Advantages of diamond semiconductors
Diamond semiconductors have the ability to utilize large amounts of electrical power efficiently, surpassing any material used in the conventional semiconductors.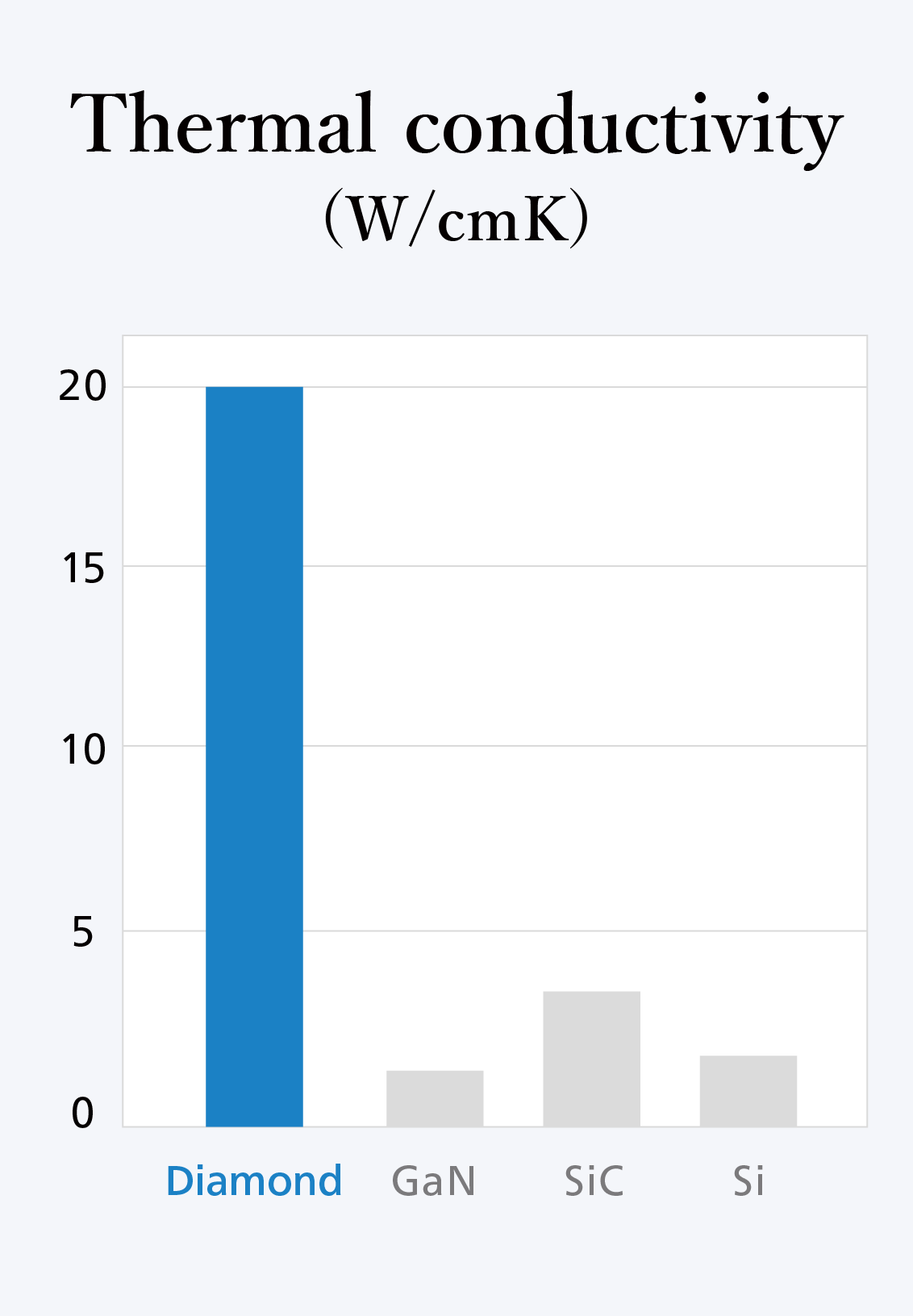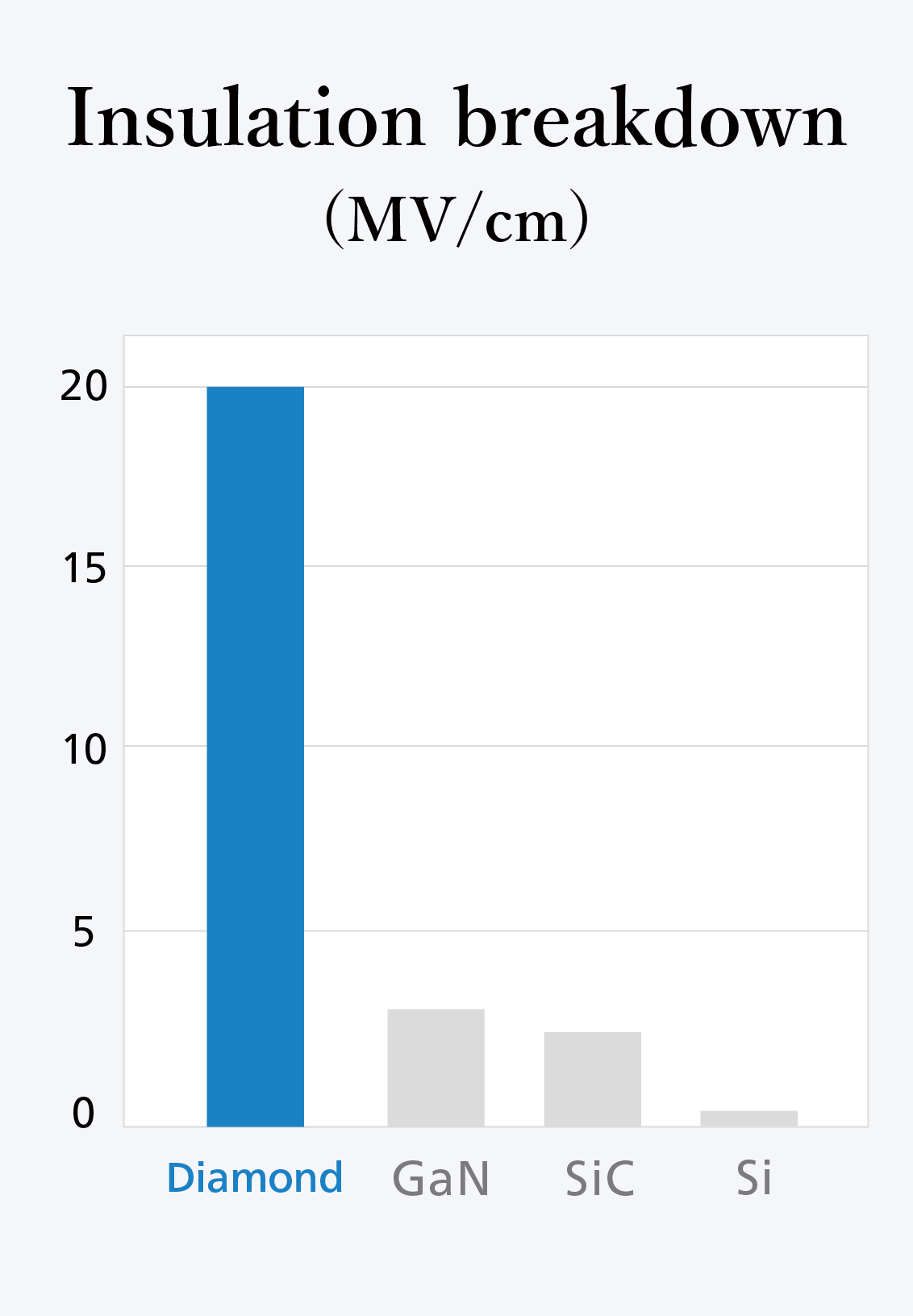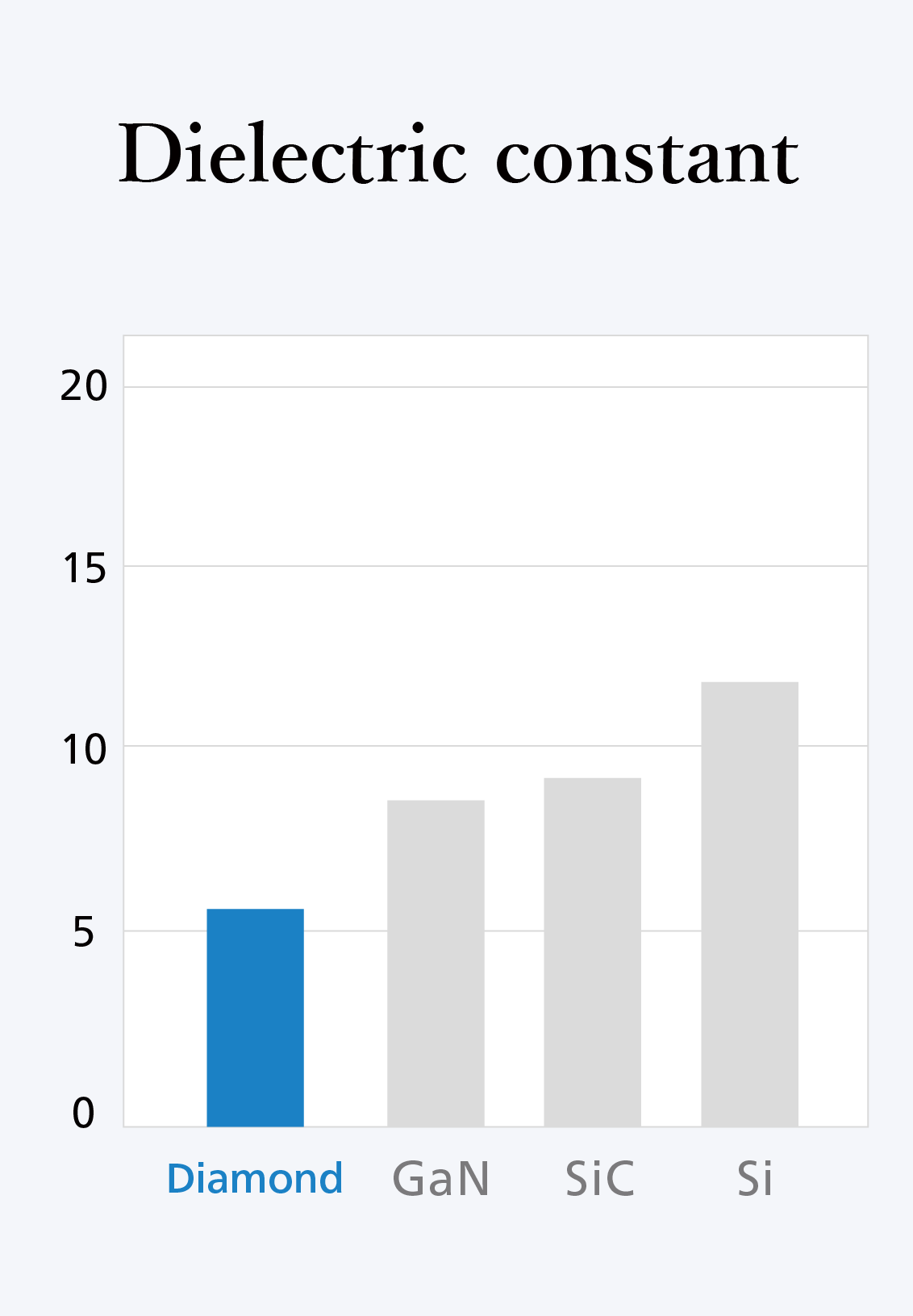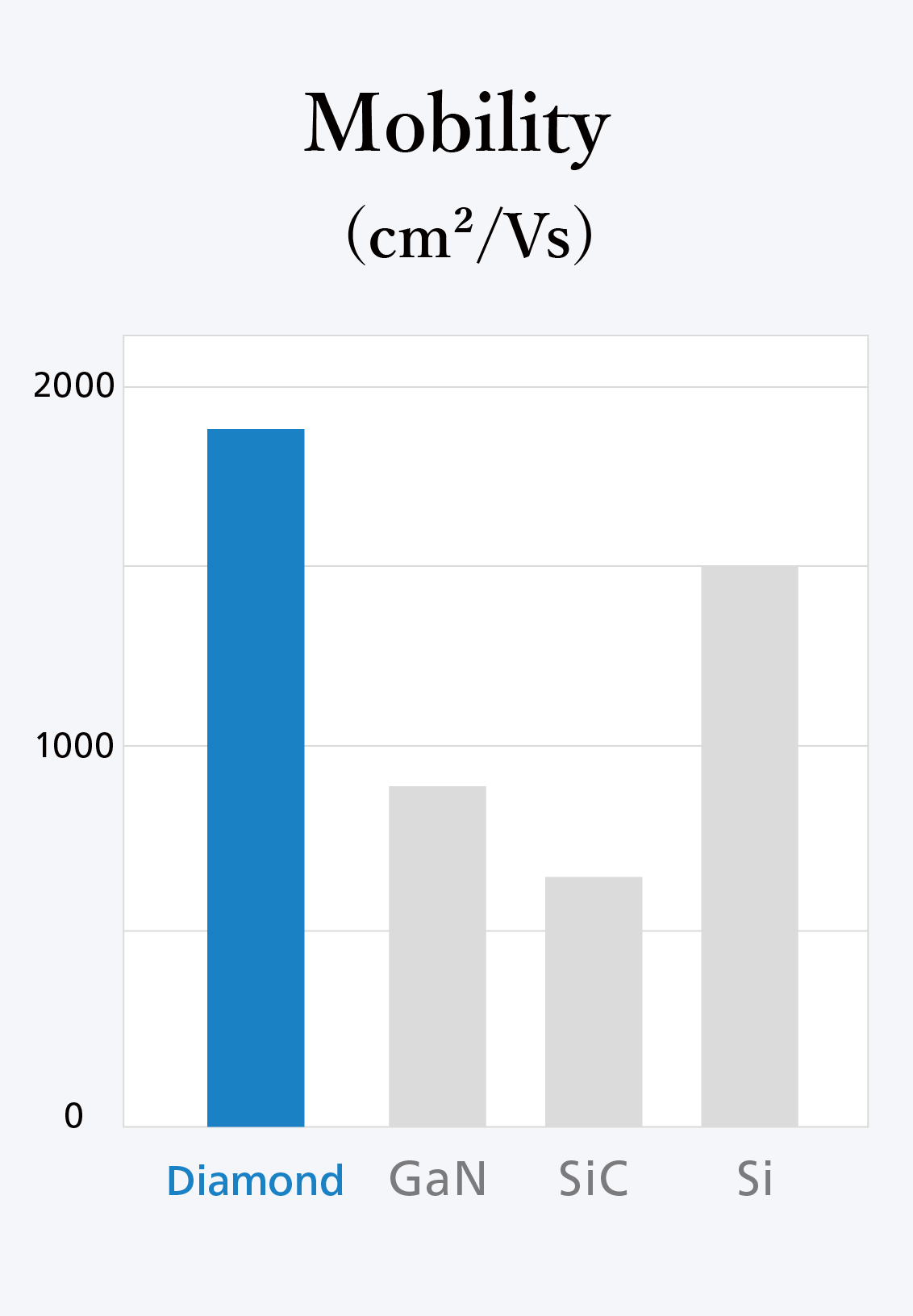 Conventional semiconductor devices require large cooling systems to prevent performance degradation caused by self-heating. However, diamond semiconductors eliminate the need for cooling, enabling compact and lightweight designs. They also possess the potential for high-power and high-frequency applications.
1. Operation in high-temperature (300℃) and radioactive (3MGy) environments
2. Simultaneous confirmation of inverted and non-inverted amplified outputs
3. Amplification of signals by 4.5 times higher than the conventional semiconductors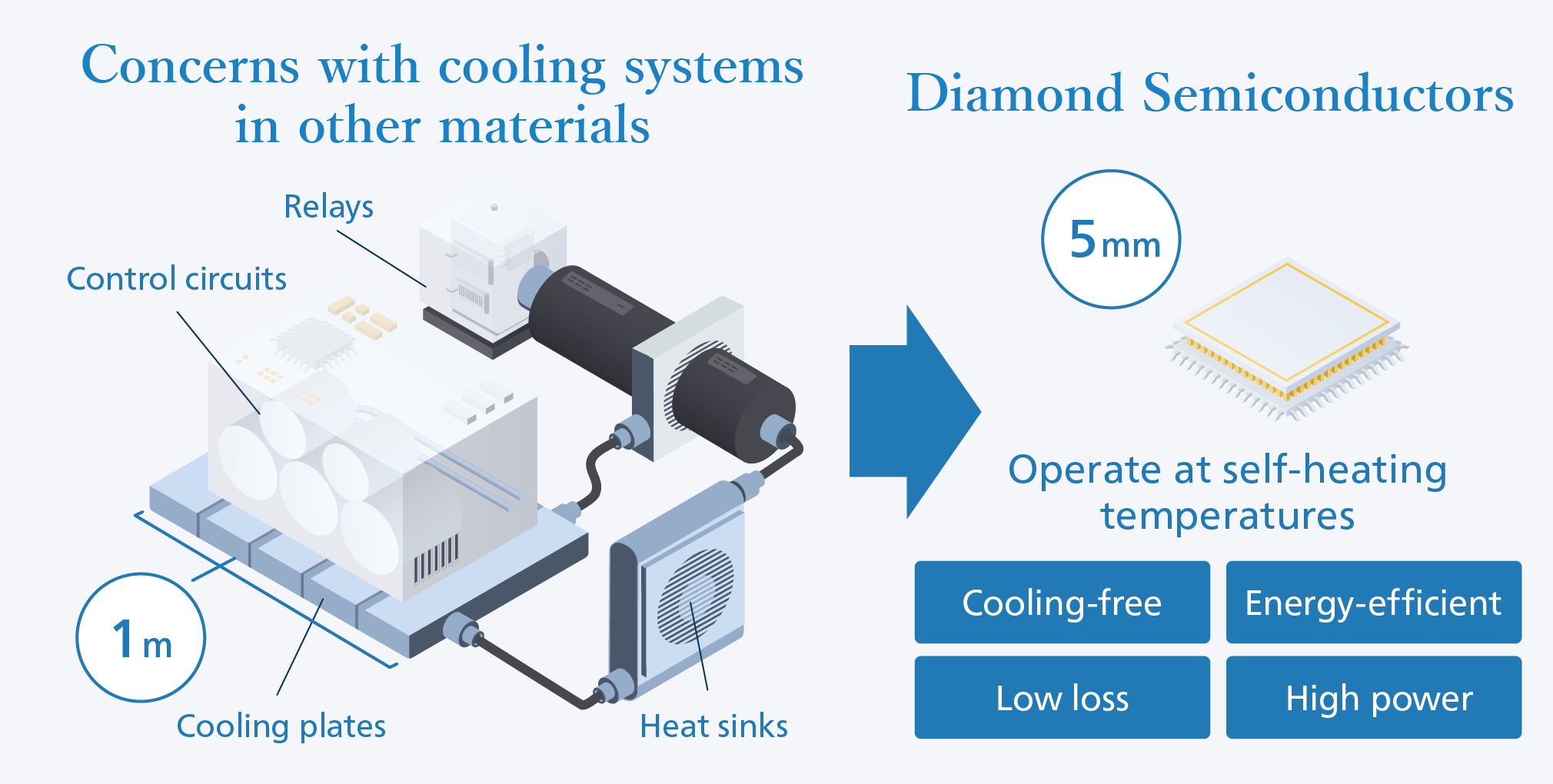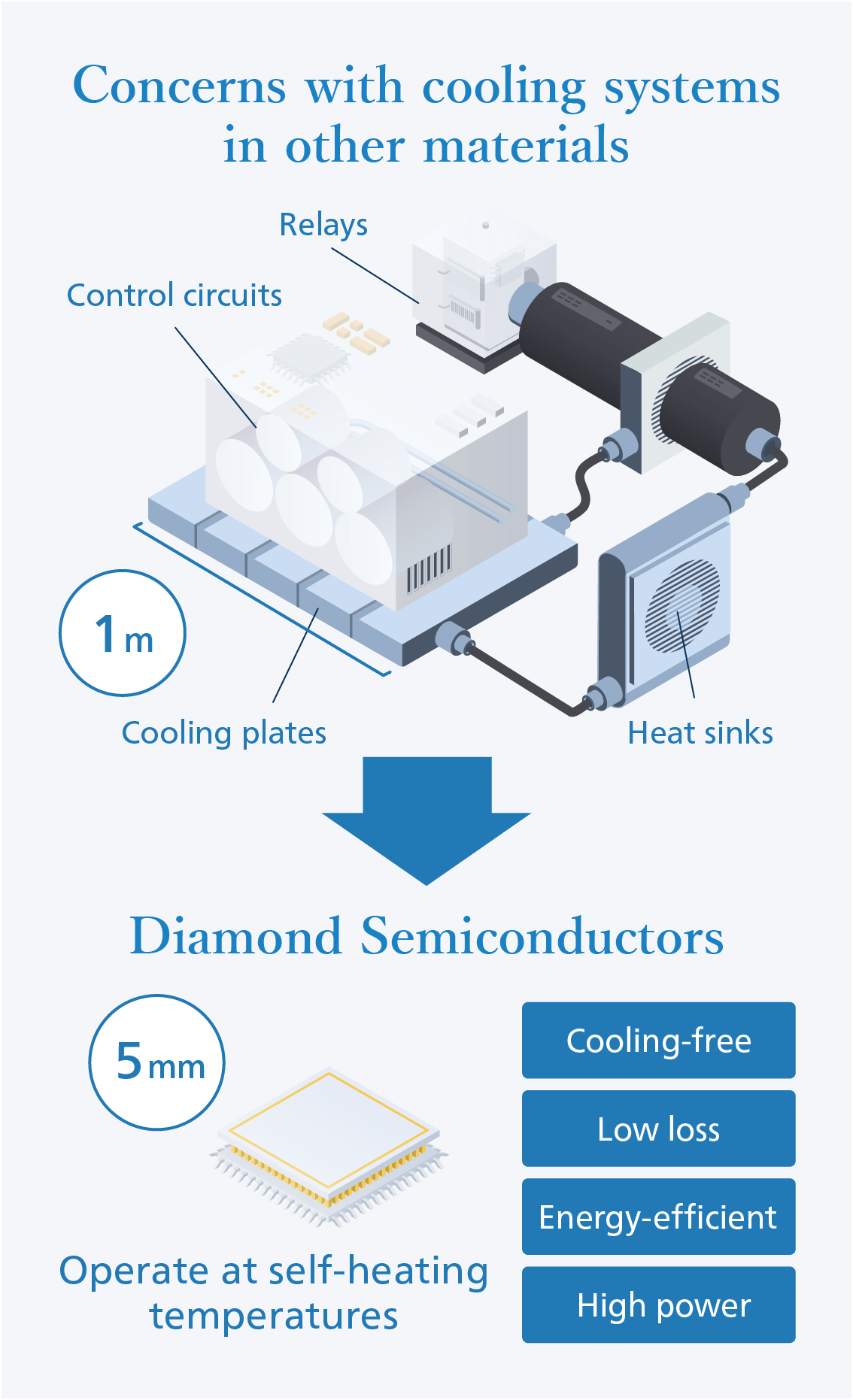 Diamond semiconductors are essential for manufacturing analog devices that can operate in harsh environments such as high-temperature and radioactive conditions (resistant to severe environments) encountered in nuclear accidents, decommissioning work, and base station applications.
They are also crucial for addressing the explosive growth and high-speed data communication demands of next-generation services like autonomous driving, blockchain, and AI.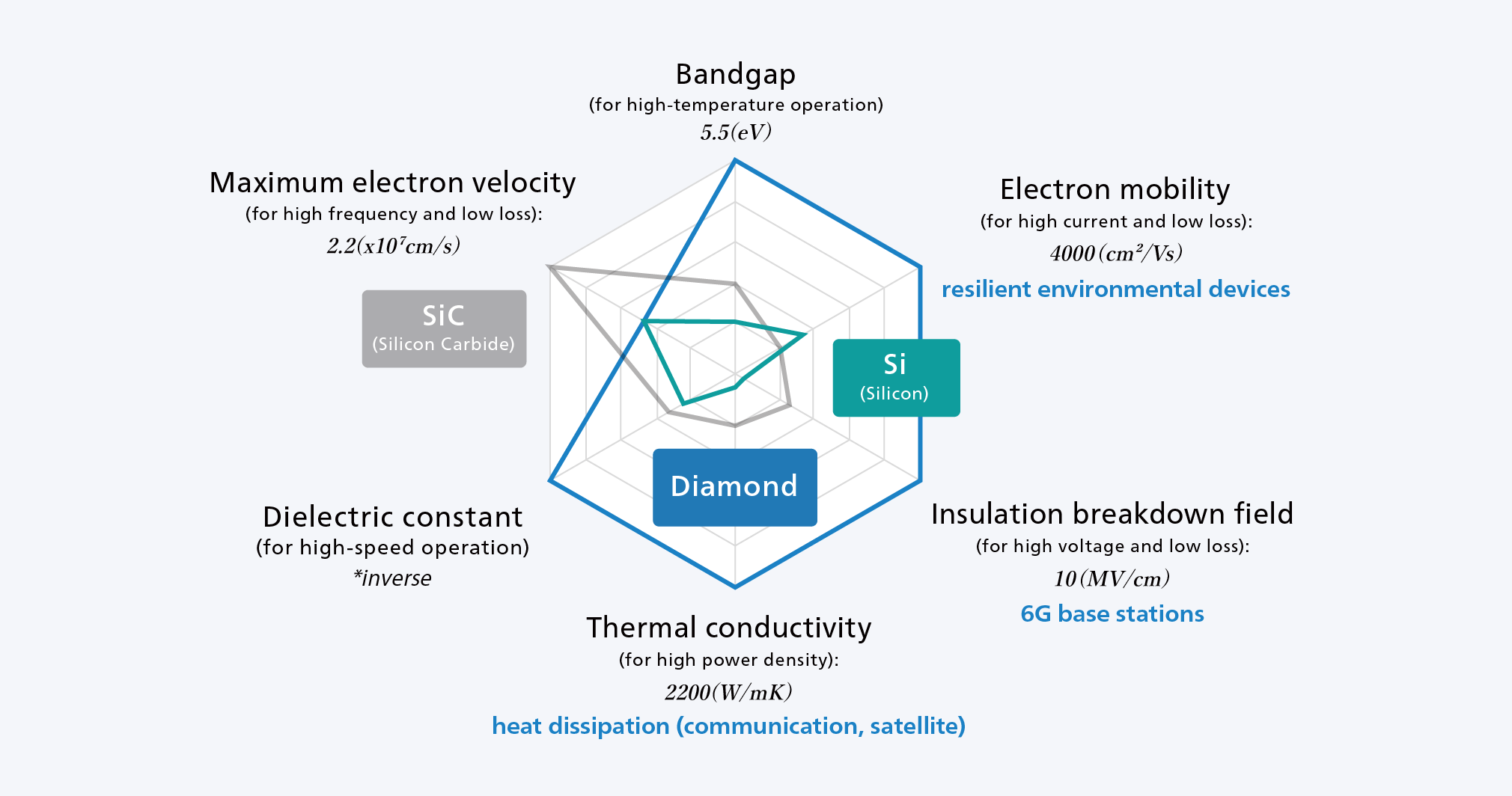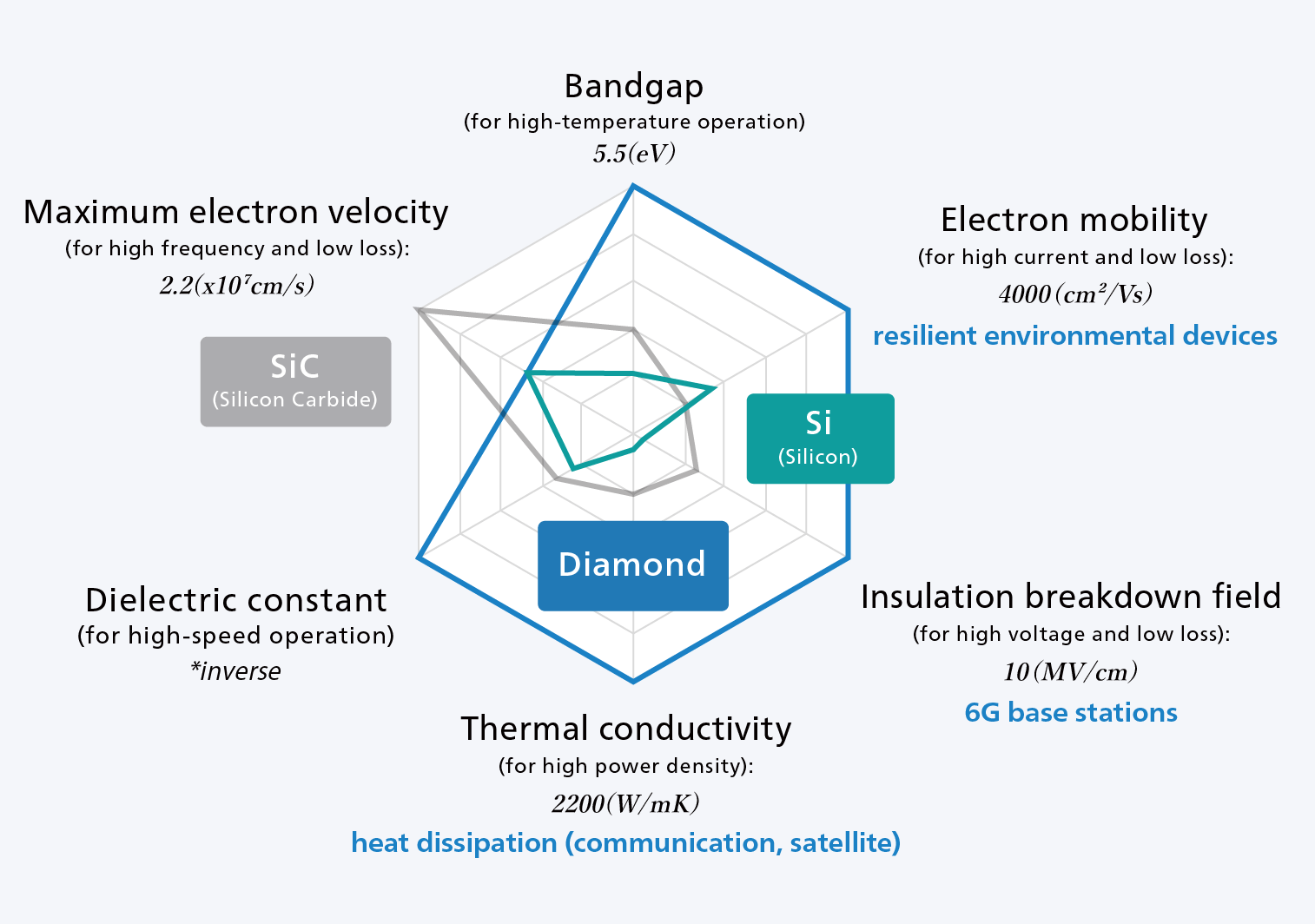 The biggest bottleneck common to next-generation services such as autonomous driving, drones, metaverses, blockchain, and AI is the establishment of wireless communication base stations capable of high-speed and high-capacity data transmission for Beyond 5G networks.
Existing 5G networks have smaller coverage areas than 4G networks, resulting in the need for more base stations, increased power consumption, and the necessity for flexible operational control of base stations and network devices to reduce power consumption in response to fluctuating communication traffic.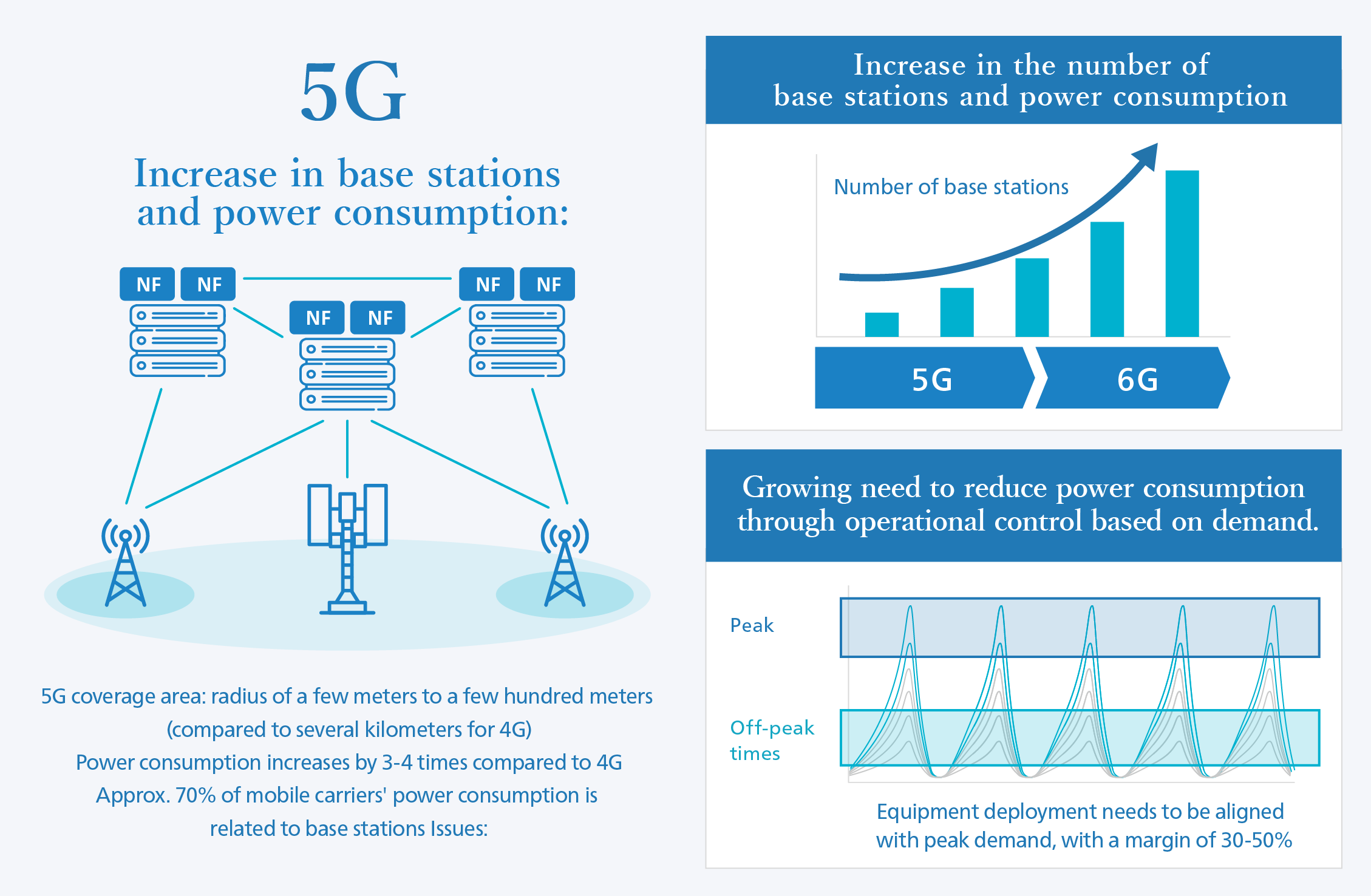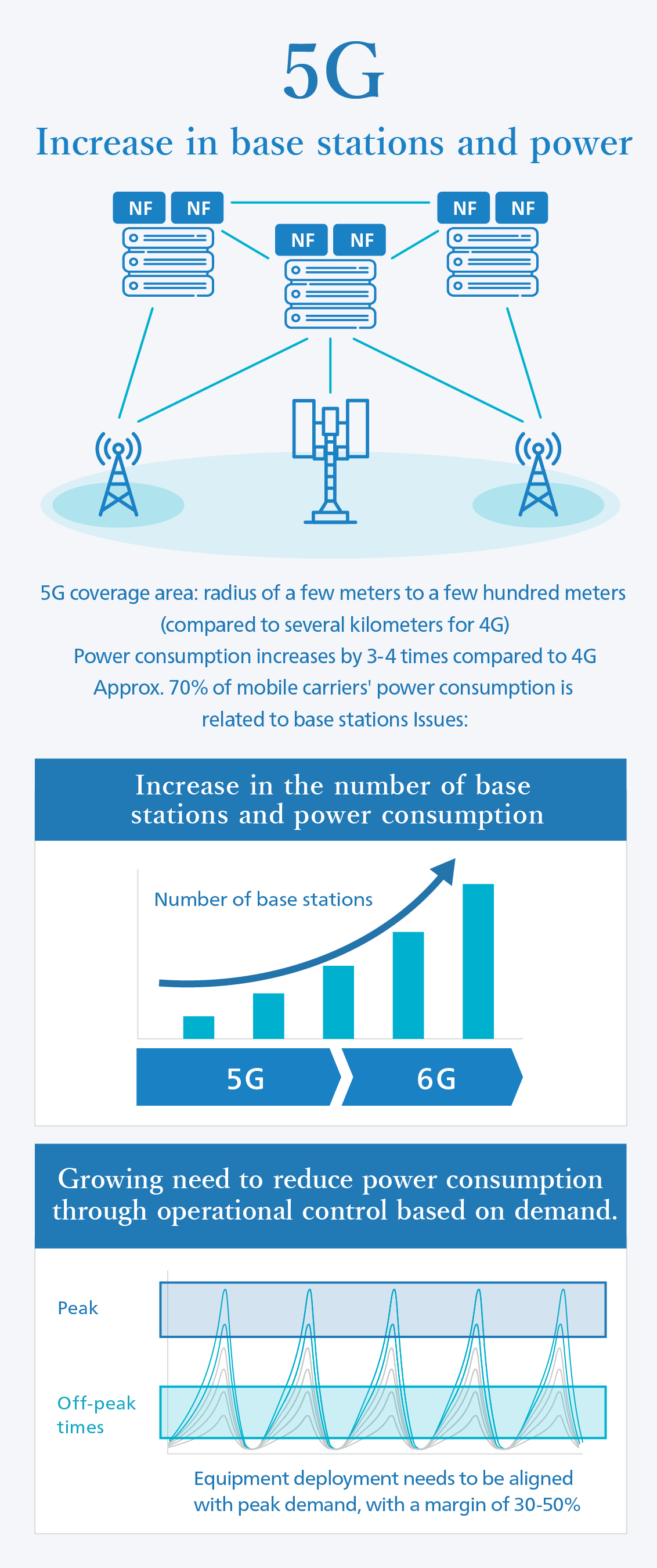 Specifications and Challenges for 6G Base Station Deployment
Diamond semiconductors can achieve both small size and lightweight performance, as well as high power and high-frequency capabilities. Diamond is the only material that is suitable for Beyond 5G base station deployment.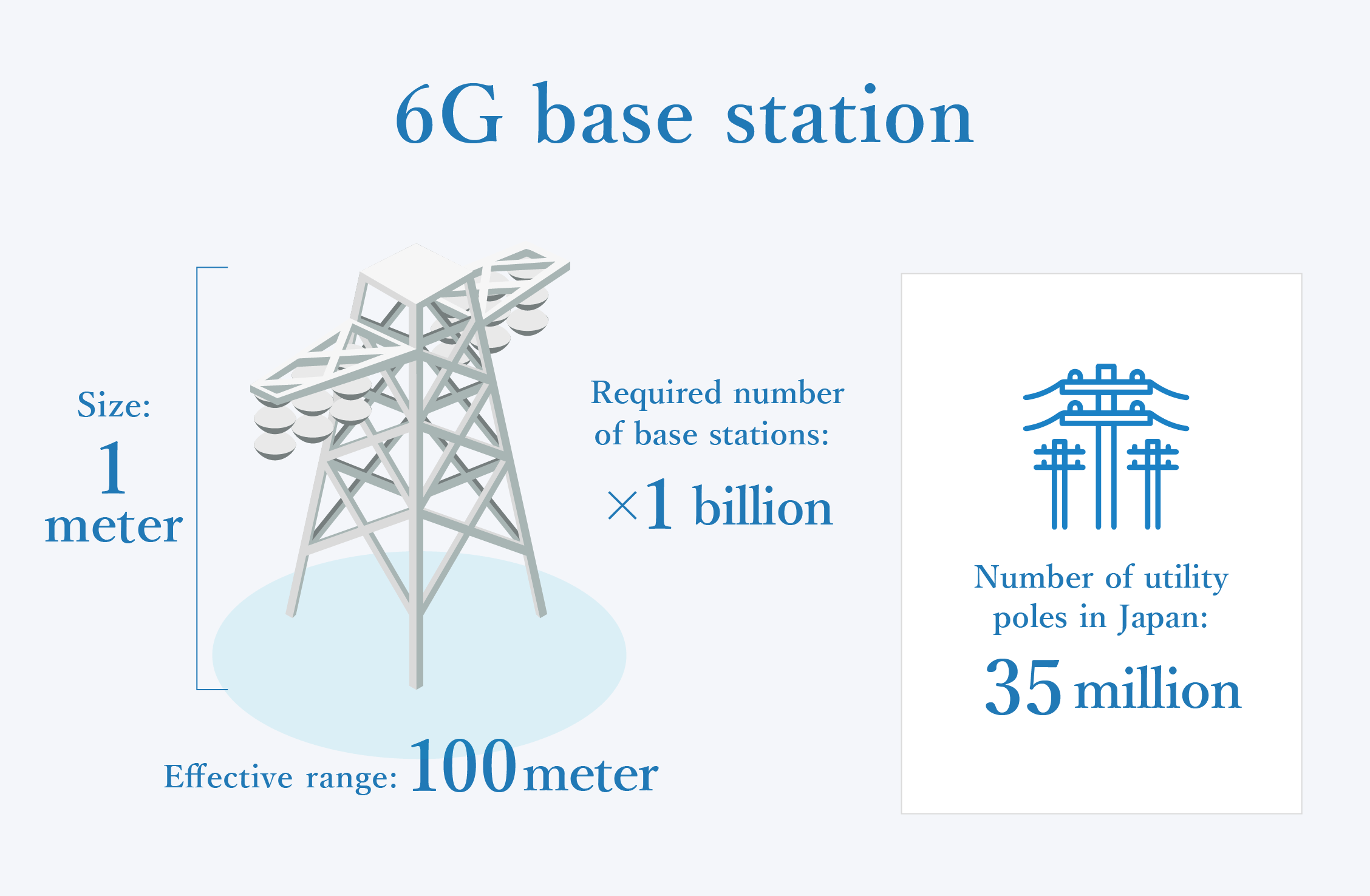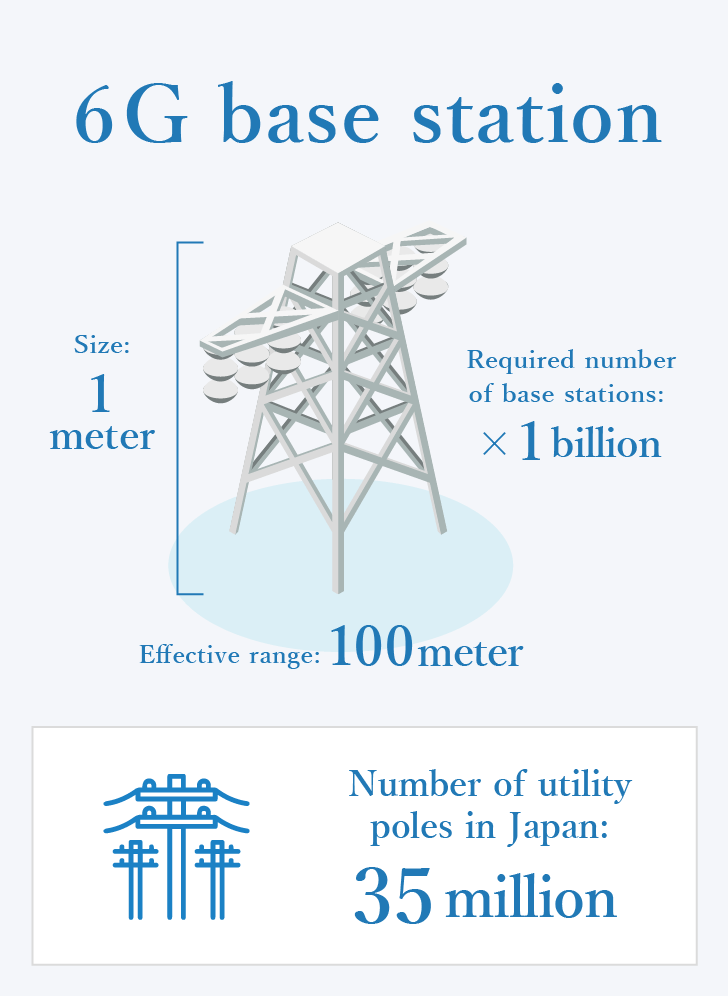 Company
OOKUMA DIAMOND DEVICE Co., Ltd.
Foundation
1st March, 2022
Business activity
Research and Development of Diamond Semiconductors
Address
                   
Headquarter: Collab Hokkaido, Nishi 12, Kita 21, Kita-ku, Sapporo, Hokkaido
Branch Office: 230 Shimizu, Shimonokami, Okuma-cho, Futaba, Fukushima
CEO and Founder
Naohisa Hoshikawa
Collaborating Research Institutions
Hokkaido University
National Institute of Advanced Industrial Science and Technology (AIST)
National Institute for Materials Science (NIMS)
High Energy Accelerator Research Organization (KEK)
BUSINESS
Decommissioning/Tolerant Radiation Device:
Radiation measurement and neutron detection in extreme environments such as nuclear power plants and space applications.

Measurement for severe accident response / Preamplifiers / Multiplexers / Transmitters, and others

Satellite Communication and Radar Business:
Manufacturing and selling diamond semiconductors for satellite communication equipment and radar industries.

Satellite communication (earth stations and satellites) / Air traffic control / Ship monitoring / Weather observation / Defense, and others

Base Station Business (Beyond 5G):

Manufacturing and selling diamond semiconductors for base stations, considering Beyond 5G.
・Mobile phone base stations
・Inter-base station communication
HISTORY
| | |
| --- | --- |
| 1995 | Started research on diamond-related technologies. |
| 2003 | Assigned measurement responsibilities through the Diamond Extreme Function Project. |
| 2006 | Selected for scientific research grant-in-aid, specific area research: "Synthesis and characterization evaluation of high-quality single crystal diamond for application to DT neutron measurement." |
| 2008 | Selected for scientific research grant-in-aid, specific area research: "Development of DT neutron energy spectrometer based on CVD single crystal diamond synthesis." |
| 2011 | Great East Japan Earthquake. |
| 2012 | Selected for the Ministry of Education, Culture, Sports, Science, and Technology (MEXT) Atomic Energy System Research and Development Project: "Research and development of diamond semiconductor devices for severe accident response." |
| 2016 | Selected for the MEXT Atomic Energy System Research and Development Project: "Development of diamond measurement systems and element technology development of diamond IC for innovation in nuclear reactor instrumentation." |
| 2020 | Selected for the MEXT Atomic Energy System Research and Development Project: "High performance of radiation-tolerant and high-temperature operational semiconductor devices toward the practical application of severe accident response electronic equipment." |
| Dec. 2020 | RADDFET patent application (Hokkaido University) |
| Dec. 2021 | Completion of the world's first practical diamond semiconductor prototype |
| Mar. 2022 | Establishment as a startup from Hokkaido University and AIST (National Institute of Advanced Industrial Science and Technology) |